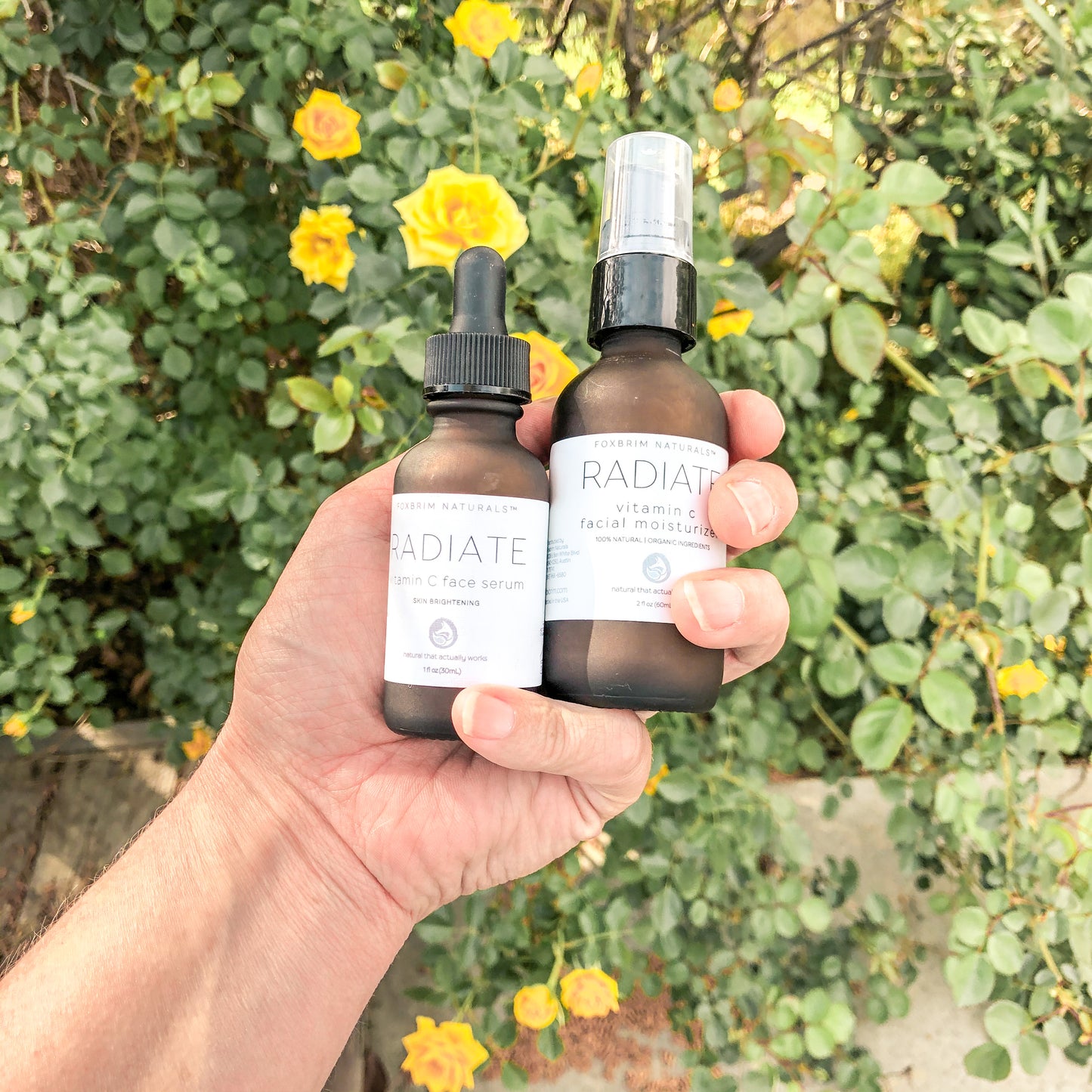 Get Your Skin Summer Ready!
The sun is a beautiful thing. Except when it's aging you.
We can be diligent with applying our sunscreen and still end up with sun spots and an increase in fine lines.
It's so frustrating and disheartening.
Sun damage appears in different ways, namely uneven skin tone, dryness and wrinkles.  With wrinkles and age spots appearing around your eyes, your skin can appear to be getting older by the day.
Your serum should help protect against sun damage.  That's why we created our Vitamin C Serum!
This collagen-boosting serum that reduces sun damage and gives skin a radiant glow.  It's paraben-free and features a powerful antioxidant complex. It contains Hyaluronic Acid for moisturization, MSM for brightening, Vitamin E and organic Aloe Vera for moisture support.
Foxbrim Naturals Vitamin C Serum firms skin and brightens the complexion while also preventing the formation of new blemishes. It reduces sun damage while and the appearance of acne and fine lines, helping skin retain its youthful glow.
Our serum can be applied both morning and night! We recommend the following steps:
Step 1- Cleanse with our Milk and Honey Facial Cleanser
Step 2- Tone with our Orange Blossom Water Toner
Step 3- Treat with our Vitamin C Serum
Step 4- Moisturize with our Vitamin C Moisturizer
These two together will give you a double dose of Vitamin C to further help your skin.
Not only does our Vitamin C Serum help reduce wrinkles, but a comprehensive study published in the Journal of Cosmetic Dermatology found that 43% of participants saw an overall improvement in their skin after using a Vitamin C serum. It's also cruelty-free and paraben-free - no animal testing! That all adds up to a huge win in our book!
So go ahead and enjoy the sun. Just remember your sunscreen! And treat your skin with our Vitamin C Serum now, before it gets damaged.
Make your summer glow last throughout autumn and winter with Foxbrim Naturals Vitamin C Serum. 100% vegan and natural so that you'll glow – not grow old – in the summertime.