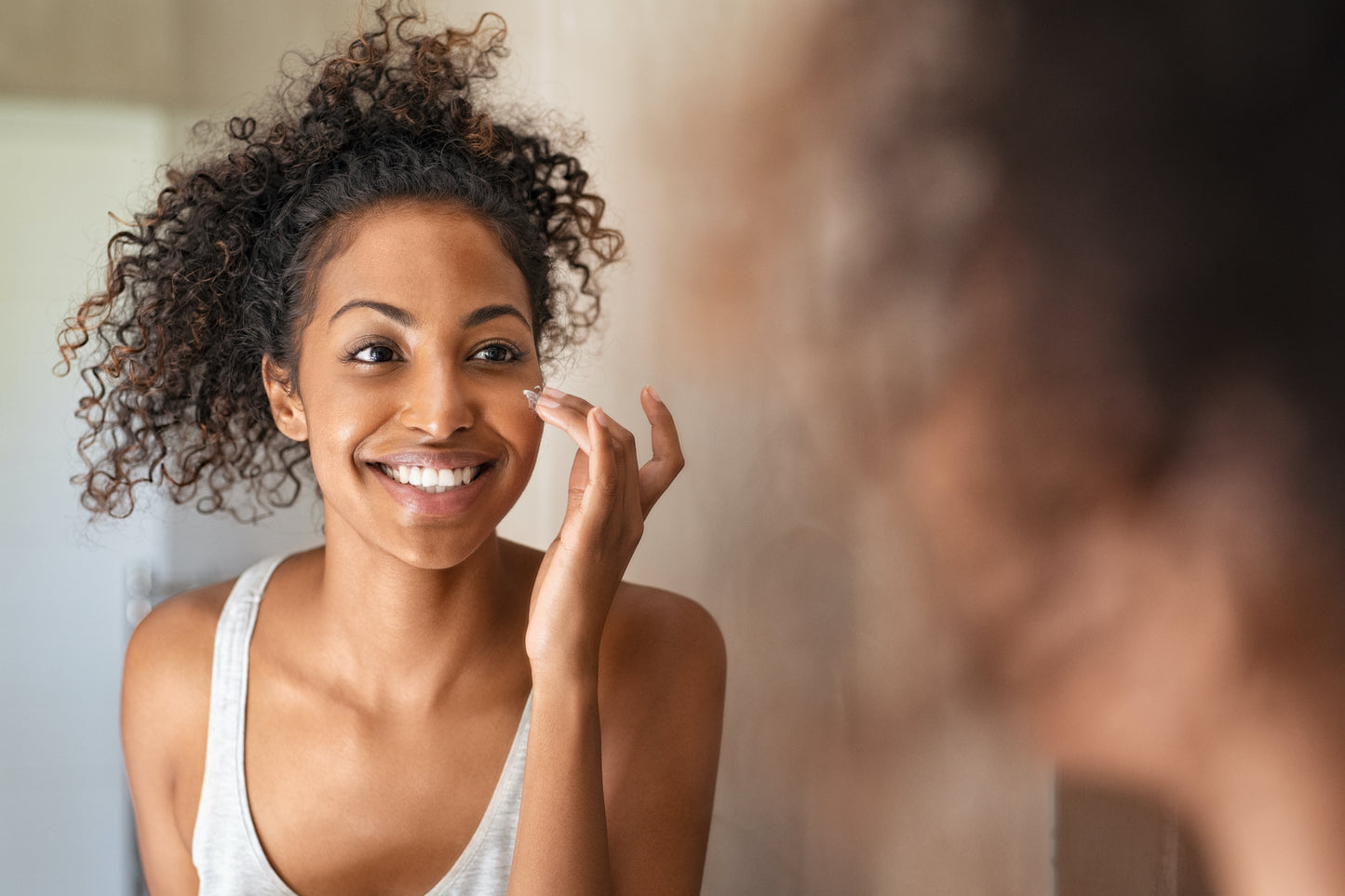 Finally an Easy to Follow, Natural Skin Care Regimen
Our new Restore Regimen is the all natural, simple and effective skin care regimen we created with you in mind.
Starting a skincare regimen can be a daunting task. 
There is soooo much information online about skincare products and some of it can be really contradictory - especially if you're trying to switch to all natural, non-toxic products. AND if you actually want these products to help you with problem areas (not to mention look younger!)
This is what motivated us to create our Restore Regimen.
Nervous to start a skincare regimen? We hear you.
That's why we made it our mission to create a skin care regimen that is easy to follow with products that are natural and effective. 
Many people have never had a set regimen and instead just use a few products here and there. This often ends with frustration when they don't see the results they are hoping for.  
Don't worry! We designed our Restore Regimen with you in mind. All of our products are gentle, natural and use ingredients that are pure and simple.
4 Main Elements
It all comes down to four main elements that do four main things.
Cleanse skin without stripping it
Balance skin's natural pH
Nourish skin's deeper level
Hydrates and moisturizes
Many people have never had a set regimen and instead just use a few products here and there. This often ends with frustration when they don't see the results they are hoping for.
STEP 1 - CLEANSE     
Your facial cleanser should hydrate your skin while it cleanses. Most cleansers are full of chemicals that strip away your skin's natural oils, leaving your face feeling dry and irritated which can lead to deeper wrinkles and breakouts.
Foxbrim's Coconut Milk & Honey Cleanser helps you to hydrate skin as you cleanse through a combination of soothing Organic Aloe, moisturizing Coconut Milk and purifying Honey Gel. Help reduce signs of aging by nourishing skin rather than stripping it.
STEP 2 - TONE
Using a toner daily is important to remove any last traces of dirt and impurities in your pores after you wash your face.  Our Orange Blossom Water Toner also minimizes the appearance of your pores.
Foxbrim's Orange Blossom Water Toner is a 100% pure and natural solution that removes excess dirt and oil, while balancing pH and refreshing your skin.
STEP 3 - TREAT  
Daily use of a serum helps lock in moisture and penetrates the deepest level of the skin with nourishing ingredients. It is just the boost your skin needs.   
Foxbrim's BOOST Peptide Serum contains a collagen-producing plant based peptide blend that helps boost collagen production and smooth fine lines. This product is a game-changer!!
STEP 4 - MOISTURIZE     
Adding the right moisturizer to your skin care regimen twice daily balances, treats and soothes your skin. This is absolutely essential for that healthy glow without the greasy-looking buildup. A dime size amount is all you need.
Ocean Minerals and Phytochemicals combined in Foxbrim's Ocean Mineral Moisturizer formula along with Aloe Vera, Jojoba Oil, Gotu Kola and Shea Butter to repair skin and give a healthy glow.  Perfect for everyday use (and doesn't leave your skin feeling greasy or cause breakouts!)
Starting a daily regimen
These four simple steps are the perfect place to start when you are unsure of where to begin with a non-toxic, all-natural skincare routine.
Foxbrim's All-Natural RESTORE Regimen works work well on all skin types and help to reset and detox so that you can continue to improve the look of fine lines and a dull complexion.
These women have experienced what having a truly natural full skincare routine can do for your skin.
Here is what they have to say about the Restore Regimen:
"My skin looks brighter"
"Love these products"
"My skin looks at feels so much smoother and softer"
"My face is getting the TLC it has so badly needed without the harsh chemicals."
To learn more about the four steps of our natural RESTORE regimen, CLICK HERE.